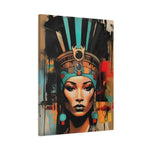 Afrofuturism Wall Art
About Afrofuturism
Afrofuturism defies strict definition, rooted in the intersections of the African diaspora and technology, encompassing a diverse mix of music, film, literature, and art. At its core, Afrofuturism seeks to understand the Afro-diasporic experience and reconnect with forgotten ancestry.
Coined by Mark Dery in his 1994 essay, "Black to the Future," Afrofuturism's origins predate the phrase. Key figures include musicians Sun Ra and George Clinton, author Octavia Butler, and visual artist Renee Cox. Evolving over decades, Afrofuturism has matured into a unique form unafraid of bold palettes.
What characterises Afrofuturism wall art?

An Afrofuturism canvas print allows you to bring this vital art into your home or office. By envisioning the future of Blackness in a futuristic setting, you can enjoy lush, vibrant colors reminiscent of African art with a contemporary twist.
Afrofuturism exhibits diverse styles—some abstract, others with a more traditional or Sci-Fi slant. Notably, poignant prints include stunning portraits that stand out in any room.
Design aesthetics for Afrofuturism canvas prints
While bright, vibrant colours are Afrofuturism hallmarks, some pieces take a subtle approach with pastel tones, black and whites, or deeper hues. These can complement minimalist or refined spaces. Alternatively, bold patterns, sunsets, and vibrant African motifs provide flexibility, making Afrofuturism suitable for various settings.

An Afrofuturism canvas print can be a striking centrepiece or harmonise with similar works and ornaments. The key lies in selecting the right print from a diverse range.

Finding the perfect Afrofuturism wall art
Personal taste and existing design elements influence the choice of the right piece. Explore our collection of Afrofuturism canvas prints to discover something that resonates with you and gives this impactful movement the space it deserves.