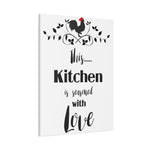 Kitchen Wall Art
About Kitchen Wall Art
Art has the power to extend beyond the confines of living rooms, finding its place in other significant areas of the house, such as the kitchen—a space where we nourish our bodies.
Prints4sure empowers you to infuse your kitchen with wall art that aligns with your interests. Our team of art experts is dedicated to assisting you in selecting pieces that resonate with your style, passion, and vision.

Consider the following tips for choosing the perfect kitchen wall art:

How to Settle on the Ideal Kitchen Wall Art

-Word Art
While a picture may convey a thousand words, sometimes words complement art beautifully. Incorporate word art into your kitchen with phrases like 'farm fresh,' 'fresh eggs,' and more that align with your style.

-Theme and Style

Balance your personal style with the overall theme of your home. If your kitchen has a statement wall, choosing matching art becomes seamless.

-Focal Point
Identify or create a focal point in your kitchen using wall art—an instant attraction for visitors.

-Colours
Embrace bright and warm colours if you desire a vibrant kitchen, encouraging a welcoming and inviting atmosphere.
-Botanicals
Bring life to your kitchen with beautiful botanicals, creating a refreshing ambiance while adding colour and making a statement.

-Plants
Hang planters to introduce live greenery as wall art, choosing houseplants or herbs for a practical and aesthetically pleasing touch.
-Buy High-quality Kitchen Canvas Prints
Designing your kitchen wall with art may seem daunting, especially if you're new to art. If you're unsure about the type of wall art that suits your kitchen, our team at Prints4sure is here to assist you. Share your vision with us, and we'll help you find the best kitchen canvas prints, whether it's a simple art painting or a canvas print.

Our canvases come in various types and sizes, offering affordability and convenience with included hanging hardware for easy installation.
If you have a passion for art, our team of curators, craftsmen, and service agents is dedicated to helping you incorporate it seamlessly into any part of your room.