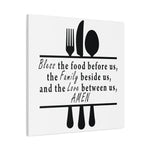 Dining Room Wall Art
About Dining Room Art
Elevate Your Dining Room with Artistic Flair
The dining room is a focal point in any home, hosting dinner parties, holiday gatherings, and memorable social events. Exceptional dining room wall art enhances this sacred space, creating an atmosphere that makes guests feel comfortable and engaged.
Characteristics of Dining Room Wall Art:

Dining room wall art is a reflection of your personality, taste, and values, contributing to the ambiance of this communal room. It often focuses on themes of harmony, peace, conversation, and family, capturing the essence of time spent with loved ones. Common subject matters include landscapes, nature, flowers, and animals.
Various styles of dining room canvas prints encourage thinking and reflection, with abstract pieces offering a fresh perspective. Traditional expressions, such as watercolours of city streets, architectural renderings, and serene harbours, are also popular choices. The colour palette tends to feature muted pastels and soft, well-balanced hues, contributing to the sense of harmony in this social space.
Choosing Excellent Dining Room Canvas Prints:
Consider the broader design theme of your home when selecting dining room canvas prints. Whether you prefer sleek minimalism or a classic, homely look, the chosen piece should complement the overall aesthetic.
Harmonise the canvas print with your existing colour scheme, creating a cohesive and visually pleasing atmosphere. While matching colours can work well, don't shy away from exploring colour clashes for a dramatic effect.
Size is a crucial consideration for dining room canvas prints. Assess the dimensions of your space and choose prints accordingly. Smaller prints may suit a compact room, while larger, bold pieces can make a statement in more expansive areas.
Explore Our Collection:
Discover the perfect dining room canvas prints in our curated collection. With a blend of tasteful landscapes, exquisite florals, and abstract or realistic renderings, you'll find artwork that complements your unique design style. Transform your dining room into a captivating space with our wonderful selection of wall art.