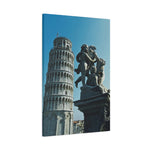 Scenery by Region Wall Art
About Scenery by Region:
Greetings, Adventurer!
Capture the essence of your favourite vacation spots and dream destinations with our curated collection of art and photography. Immerse yourself in the vivid lifelike details presented on high-quality Canvas Prints, Posters, and more. It's a delightful way to bring the spirit of your travels right into your home, almost like reliving those unforgettable adventures.