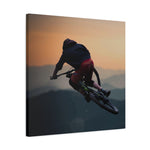 People Wall Art
About People Art

Turn your walls into captivating focal points with our extraordinary selection of people wall art. Whether you're a fan of iconic personalities or appreciate the allure of figurative art, our canvas prints will infuse life and character into any room.
Our people wall art features influential and inspiring figures from various realms, including artists, musicians, actors, and historical icons. Adorn your walls with the timeless elegance of Leonardo da Vinci's "Mona Lisa" or the captivating gaze of Vincent van Gogh's self-portraits. Let the charisma of Marilyn Monroe or the boldness of Muhammad Ali energise your living room or workspace.
Unleash the Power of Expression with Enchanting Figurative Wall Art
Our figurative art canvases are ideal for those with an affinity for the human form and its expressions. Dive into a world of emotions and narratives as you immerse yourself in the intricate details and artistic interpretations captured by talented creators. From delicate brushstrokes to bold contours, each piece tells a unique story that will captivate both you and your guests.

Craft a Visually Striking Display with Infinite Possibilities
Why settle for ordinary decor when you can curate an ambiance that sparks conversations and evokes emotions? Our canvas prints add a sophisticated and personalised touch to your home or office. The vibrant colours, fine details, and high-quality materials ensure a visually striking and enduring addition to your walls.
Decorating with people wall art and figurative art canvases opens up endless possibilities. Make a statement by creating a gallery wall with a diverse selection of personalities, or let a single centrepiece anchor the room. Mix and match various sizes, frames, and styles to craft a vibrant and visually appealing display.

Revitalise your living spaces and showcase your admiration for famous individuals or the allure of the human form with our exceptional collection of people wall art and figurative art canvases. Begin your exploration today and witness the transformative power of art on your walls. Elevate your surroundings, ignite conversations, and embrace the beauty of expression with our captivating canvases.