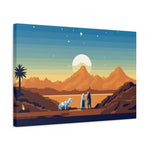 Pixel Wall Art
About Pixel Art
Pixel Wall Art: Revive Childhood Nostalgia
Pixel art, born in the 1970s with the surge in computer and digital art popularity, remains a vivid part of our cultural memory. Originating from the use of pixels, artists crafted the world's first captivating, fun, and detailed digital artworks.
While pixel art faced a decline in the 1990s due to the rise of complex 3D computer graphics, it never truly disappeared. Transitioning from the confines of computer screens, artists brought pixel art into the realm of physical artwork.
Now utilised in diverse scenarios like posters, music album covers, magazine covers, desktop wallpapers, wall art, paintings, pixel video ads, and even pixelated tattoos, pixel art holds a nostalgic charm, especially for 90s kids who indulged in Nintendo games like Super Mario. Pixel canvas art is characterised by minimalism and simplicity, featuring high-contrast pixels that evoke the allure of childhood.
Explore Your Favourite Pixel Characters on Your Wall

Pixel art is generally categorised into isometric and non-isometric styles. Isometric pixel art creates a 3D appearance within a 2D shape, while non-isometric pixel art showcases only one side of the object, such as the top or front.
Choosing Pixel Wall Art Tips:
1. Theme and Colour: Pixel wall art with high colour contrast should complement your space's theme and colour for balance and aesthetic appeal.
2. Keep It Simple: Opt for a few minimalistic pieces rather than overwhelming your walls with multiple pixel artworks. Consider using a large canvas featuring various pixel characters for a cohesive look.
3. Switch Things Up: Have fun with pixel art by rotating pieces on different walls. GBC's lightweight and easy-to-hang wall art allows for effortless transformations.
In conclusion, evoke 90s memories and add a playful touch to your space with pixel wall art featuring your beloved gaming characters. At GBC, our diverse collection of pixel canvas art showcases characters from video games and cartoons, providing the perfect nostalgic touch for any space. We're always here to assist you in choosing the right pixel wall art to enhance your surroundings.