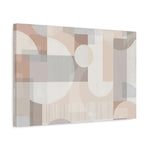 Light Academia Wall Art
About Light Academia
The way you adorn your home speaks volumes about your personality. Therefore, it's crucial to skillfully blend various decor styles to craft a space that reflects your uniqueness. Light academia wall art has emerged as a trending choice for individuals looking to elevate their rooms with a fresh touch.
Originating from social media platforms like TikTok, this decor style, embraced by the younger generation, serves as a source of inspiration for fostering optimism, friendship, and motivation.
So, if you're considering breathing life into your walls, this guide provides insights into what light academia wall decor entails and suggests the best canvas prints for your space.

What Is Light Academia Wall Art?
Light academia wall art is a popular aesthetic trend that has gained traction on platforms such as TikTok, YouTube, and Instagram. Spawned by the younger generation, this trend seeks to cultivate positivity and motivation through expressions in art, music, history, and literature.
Characterised by a focus on optimism, joy, gratitude, motivation, and friendship, light academia wall decor often incorporates colours like cream, white, beige, plaid, light brown, and muted shades. The amalgamation of these colours results in an exceptional aesthetic that evokes the cosy ambiance of a university library or the nostalgia of old poetry.
How to Choose the Best Light Academia Canvas Prints for Your Space
Crafting the perfect light academia wall decor involves selecting the right canvas prints, a choice influenced by your budget and personal style. Consider these canvas print ideas for your space:
Vintage Art Prints: Decorate your space with classical paintings, maps, or botanical illustrations in elegant frames for a timeless look.
Floral Wreaths: Opt for floral canvas prints featuring dried flowers and twine to create a rustic ambiance on your walls.
Mirrors: Enhance the vintage style of your space with a simple-framed mirror strategically placed to reflect ample light and make the room appear more spacious.
Book Pages Wall Collages: Give your space a unique touch by tearing pages from old books and creating an eclectic canvas collage.
Tapestry: Use tapestries with a muted colour palette and nature-inspired designs to achieve a simple, light academia decor for your home.
Elevate your space with Light Academia Wall Decor from Prints4sure. Our collection boasts diverse canvas prints covering a range of subjects, allowing you to infuse your walls with the perfect piece of art to transform your space.